From Documentation
Tip 1: Box Sizing
To improve performance at client side, we use the border-box model for all components in ZK 7 instead of the content-box model. It means a specified CSS property - width/min-width and height/min-height - on the element will consider border width.
Tip 2: Component Mold
Since we are no longer supporting browsers that don't support CSS 3 in ZK 7, some components' molds are now sharing the same DOM structure with their default mold to improve performance. However, you do not need to change your Component.setMold() code since ZK handles this transparently.
Tip 3: Component Zclass
Some components' zclass-es consist of several parts (separated by dashes "-"), for instance, the zclass of the Window component with embedded mode is "z-window-embedded" and the CSS class of its header part is "z-window-embedded-header". All other modes have corresponding classes following the pattern z-window-mode-header. In order to make it easier to customize, we separate it into two CSS classes with "zclass modeclass" pattern.
For example,

<div class="z-window z-window-embedded">
    <div class="z-window-header"></div>
    <div class="z-window-content"></div>
</div>
Then, if you want to customize the content part of window for all modes, simply override CSS class z-window-content.
Tip 4: DOM Structure
In ZK 6.5, several components use a 3 x 3 grid structure(see image bellow) to achieve the rounded corner style. In ZK 7, we applied CSS 3, therefore, the complex 3 x 3 grid structure is no longer needed.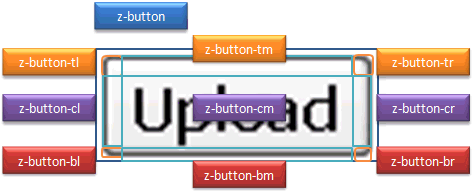 Tip 5: CSS Class Naming
In ZK 6.5, we use abbreviations for CSS class names which can be hard to understand what it represents sometimes. Hence, to make it more semantic in ZK 7, we use full-naming pattern on CSS class names. For example,
z-component-ver become z-component-vertical,
z-component-cnt become z-component-content,
z-component-seld become z-component-selected,
z-component-over become z-component:hover, or
z-component-disd become z-component[disabled]
Here we can see not only abbreviations have been changed to full names, we also use CSS selector likes :hover and attribute selector like [disabled] to make it more intuitive.
Tip 6: Image Icons and Font Icons
In order to reduce page loading time, we use font icons in ZK 7 to replace original image icons. There are a lot of web icon fonts on the market, here we integrate in ZK 7 with Font Awesome 4.0.1. Thus, it is easy to use font icons in ZK application by simply replace prefix fa to z-icon, for example, z-icon-caret-up represents a triangle arrow up font icon.
Tip 7: Scrollbar
Since ZK 7, we provide custom scrollbar for Grid, Listbox and Tree component by default, which means you can also customize scrollbar style. Here we will demonstrate how to style it. Or, if you do not wish to custom your scrollbar, we will also demonstrate how to disable it and use browser default scrollbar instead.