Create and Run Your First ZK Application with Eclipse and ZK Studio
From Documentation
ZK Studio is an Eclipse plugin to simplify the development of ZK applications with Eclispe.
Préparer Eclipse IDE
Installer Eclipse
Téléchargez et installez Eclipse IDE for Java EE Developers
Installer ZK Studio
Suivez le Guide d'installation pas à pas pour installer ZK Studio.
Définir un Server Runtime
Allez dans le menu Windows > Preferences...
Sélectionnez Server > Runtime Environments, ensuite cliquez sur Add
Sélectionnez Apache > Apache Tomcat v6.0 et cliquez sur Next
Sélectionnez votre dossier d'installation d'Apache Tomcat ex. C:\Program Files\Apache Software Foundation\Tomcat 6.0
Cliquez sur Finish
Créer une application "hello world" (avec un ZK Studio)
Créer un nouveau "ZK Project"
Grâce à ZK Studio, vous n'avez plus besoin de créer un nouveau Dynamic Web Project et configurer les paramètres pour ZK! Vous pouvez créer directement un nouveau ZK Project, choisir votre Package ZK et vous relaxer pendant que ZK Studio fait le reste pour vous.

Le swf suivant illustre comment créer un nouveau projet ZK avec Eclipse 3.4 et ZK Studio:
Pour le détail des étapes, merci de vous référez à Create a New ZK Project
Créer un nouveau fichier ZUL
1. Faites un click-droit sur le dossier WebContent dans le Project Explorer ou dans le Package Explorer et sélectionnez New > ZUL.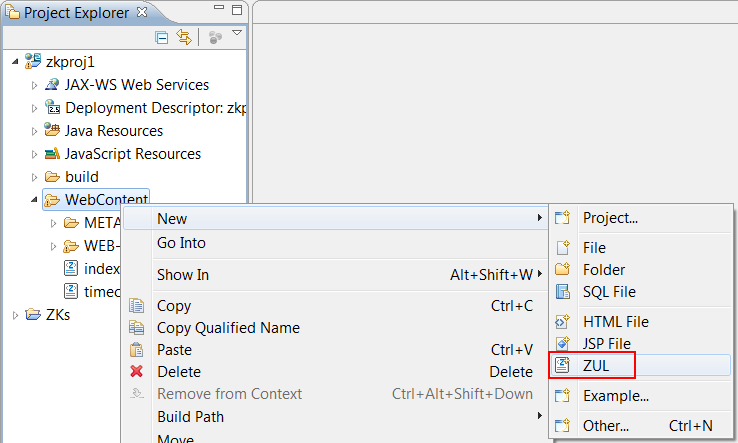 2. Tapez test.zul dans la zone de texte File name et cliquez sur Finish.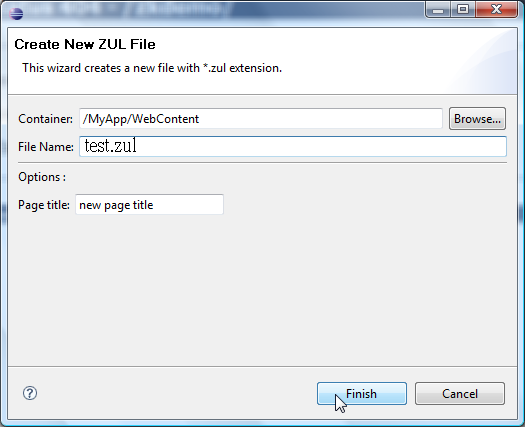 3. Le nouveau fichier ZUL sera ouvert dans le ZUL Editor.

Exécuter le fichier ZUL
1. Faites un click-droit sur le projet MyApp dans l'explorateur et dans la boite de dialogue Menu sélectionnez Run As > Run on Server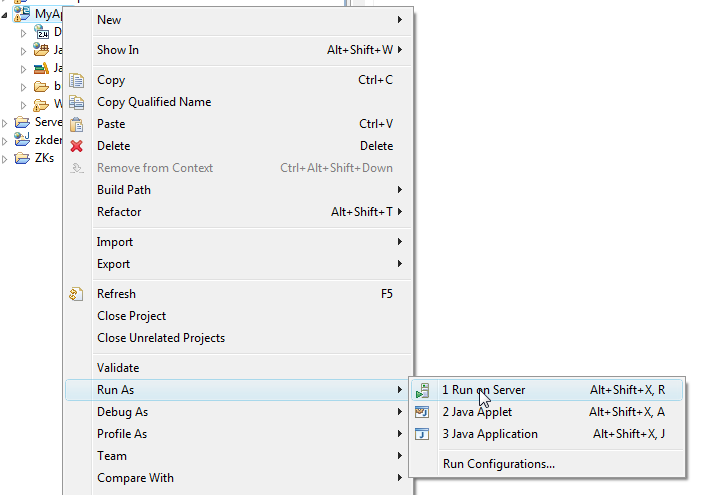 2. Sélectionnez Apache > Tomcat v6.0 Server dans la boite de dialogue server et ensuite cliquez sur Finish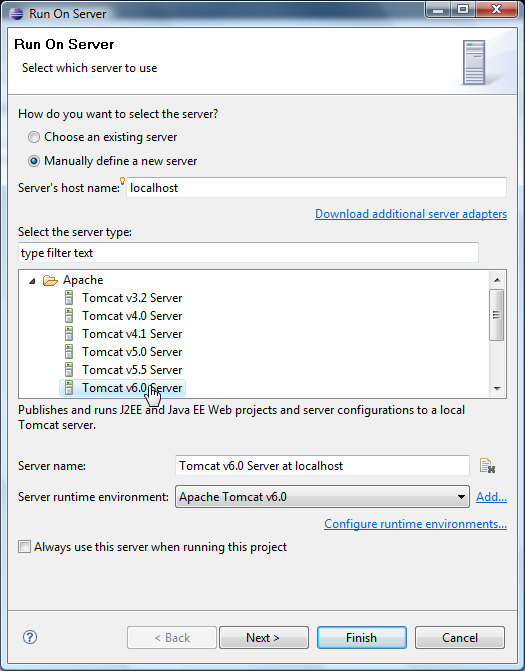 3. Observez le résultat dans votre navigateur.

Version History