Layouting With Box In ZK5
From Documentation
Author
Jumin Rubin




Jumin is a full time software engineer at a software provider for a financial institutions in Switzerland. He has been in the software development industry since 1995 based in various areas - software architecture and design, programming, and etc. Currently he is developing financial messaging systems with ZK as front-end.
Version
ZK 5.0.0 and above
Introduction
Since ZK5, the Box layout component has been slightly modified (enhanced?) as follows:
"Widths" and "Heights" attributes are deprecated and Cell shall be used instead as child component.
"Hflex" and "Vflex" attributes are supported to size the child widgets automatically.
"Stretch" can be used as value in the "Align" and "Pack" attributes.
Conditioned with those changes above, it raises several questions as follows:
How those attributes and the values effect the layout of the widgets?
How do they work together the percentage value e.g. 50%, 100% in "Width" and "Height" attributes?
Do those attributes and values produce same effect to all child widgets? The common child widgets would be: Label, Textbox, Button, Box (Hbox/Vbox), and Window.
Layout Experiment Playground
To answer those questions, a playground to quickly test the combination of these attributes and values is required. The following figure illustrates a proposed playground.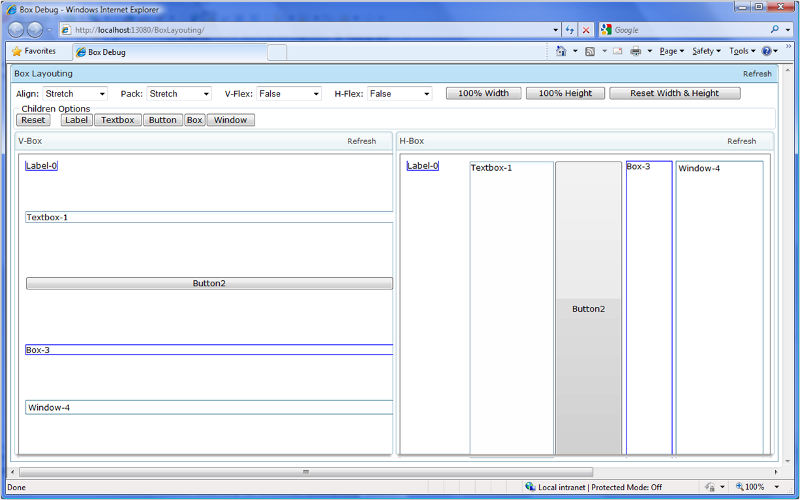 A sample implementation can be found in the following ZUL and Java code.
index.zul
<?

page

 

title

=

"Box Debug"

 

contentType

=

"text/html;charset=UTF-8"

?>




<

zk

>


    

<

window

 

title

=

"Box Layouting"

 

border

=

"normal"


        

apply

=

"layouting.BoxController"

>


        

<

caption

>


            

<

toolbarbutton

 

label

=

"Refresh"

/>


        

<

/caption>


        

<

hbox

 

style

=

"margin: 5px 5px 5px 5px;"

 

align

=

"center"

>


            

<

label

 

value

=

"Align:"

 

/>


            

<

listbox

 

id

=

"alignValue"

 

mold

=

"select"

 

rows

=

"1"

 

width

=

"100px"


                

forward

=

"onSelect=onAssignLayout"

>


                

<

listitem

 

label

=

"Null"

 

value

=

"null"

 

selected

=

"true"

 

/>


                

<

listitem

 

label

=

"Start"

 

value

=

"start"

 

/>


                

<

listitem

 

label

=

"Center"

 

value

=

"center"

 

/>


                

<

listitem

 

label

=

"End"

 

value

=

"end"

 

/>


                

<

listitem

 

label

=

"Stretch"

 

value

=

"stretch"

 

/>


            

<

/listbox>


            

<

space

 

/>


            

<

label

 

value

=

"Pack:"

 

/>


            

<

listbox

 

id

=

"packValue"

 

mold

=

"select"

 

rows

=

"1"

 

width

=

"100px"


                

forward

=

"onSelect=onAssignLayout"

>


                

<

listitem

 

label

=

"Null"

 

value

=

"null"

 

selected

=

"true"

 

/>


                

<

listitem

 

label

=

"Start"

 

value

=

"start"

 

/>


                

<

listitem

 

label

=

"Center"

 

value

=

"center"

 

/>


                

<

listitem

 

label

=

"End"

 

value

=

"end"

 

/>


                

<

listitem

 

label

=

"Stretch"

 

value

=

"stretch"

 

/>


            

<

/listbox>


            

<

space

 

/>


            

<

label

 

value

=

"V-Flex:"

 

/>


            

<

listbox

 

id

=

"vflexValue"

 

mold

=

"select"

 

rows

=

"1"

 

width

=

"100px"


                

forward

=

"onSelect=onAssignLayout"

>


                

<

listitem

 

label

=

"False"

 

value

=

"false"

 

selected

=

"true"

 

/>


                

<

listitem

 

label

=

"True"

 

value

=

"start"

 

/>


            

<

/listbox>


            

<

space

 

/>


            

<

label

 

value

=

"H-Flex:"

 

/>


            

<

listbox

 

id

=

"hflexValue"

 

mold

=

"select"

 

rows

=

"1"

 

width

=

"100px"


                

forward

=

"onSelect=onAssignLayout"

>


                

<

listitem

 

label

=

"False"

 

value

=

"false"

 

selected

=

"true"

 

/>


                

<

listitem

 

label

=

"True"

 

value

=

"start"

 

/>


            

<

/listbox>


            

<

space

 

/>


            

<

button

 

label

=

"100% Width"

 

forward

=

"onClick=onFullPercentWidth"

 

/>


            

<

button

 

label

=

"100% Height"

 

forward

=

"onClick=onFullPercentHeight"

 

/>


            

<

button

 

label

=

"Reset Width &amp; Height"


                

forward

=

"onClick=onResetWidthAndHeight"

 

/>


        

<

/hbox>


        

<

groupbox

>


            

<

caption

 

label

=

"Children Options"

 

/>


            

<

button

 

label

=

"Reset"

 

forward

=

"onClick=onClearChildren"

 

/>


            

<

space

 

/>


            

<

button

 

label

=

"Label"

 

forward

=

"onClick=onAddLabelChild"

 

/>


            

<

button

 

label

=

"Textbox"

 

forward

=

"onClick=onAddTextboxChild"

 

/>


            

<

button

 

label

=

"Button"

 

forward

=

"onClick=onAddButtonChild"

 

/>


            

<

button

 

label

=

"Box"

 

forward

=

"onClick=onAddBoxChild"

 

/>


            

<

button

 

label

=

"Window"

 

forward

=

"onClick=onAddWindowChild"

 

/>


        

<

/groupbox>


        

<

hbox

 

width

=

"100%"

>


            

<

cell

 

width

=

"50%"

 

height

=

"500px"

>


                

<

groupbox

 

mold

=

"3d"

 

width

=

"100%"

 

height

=

"500px"

>


                    

<

caption

 

label

=

"V-Box"

>


                        

<

toolbarbutton

 

label

=

"Refresh"


                            

forward

=

"onClick=onVboxRefresh"

 

/>


                    

<

/caption>


                    

<

vbox

 

id

=

"vbox"

 

width

=

"100%"

 

height

=

"100%"

 

align

=

"start"


                        

pack

=

"start"


                        

style

=

"padding: 10px 10px 10px 10px; border: 1px solid grey"

 

/>


                

<

/groupbox>


            

<

/cell>


            

<

cell

 

width

=

"50%"

 

height

=

"500px"

>


                

<

groupbox

 

mold

=

"3d"

 

width

=

"100%"

 

height

=

"500px"

>


                    

<

caption

 

label

=

"H-Box"

>


                        

<

toolbarbutton

 

label

=

"Refresh"


                            

forward

=

"onClick=onHboxRefresh"

 

/>


                    

<

/caption>


                    

<

hbox

 

id

=

"hbox"

 

width

=

"100%"

 

height

=

"100%"

 

align

=

"start"


                        

pack

=

"start"


                        

style

=

"padding: 10px 10px 10px 10px; border: 1px solid grey"

 

/>


                

<

/groupbox>


            

<

/cell>


        

<

/hbox>


    

<

/window>




<

/zk>



BoxController.java
package

 

layouting

;





import

 

java

.

util

.

List

;





import

 

org

.

zkoss

.

zk

.

ui

.

HtmlBasedComponent

;




import

 

org

.

zkoss

.

zk

.

ui

.

util

.

GenericForwardComposer

;




import

 

org

.

zkoss

.

zul

.

Box

;




import

 

org

.

zkoss

.

zul

.

Button

;




import

 

org

.

zkoss

.

zul

.

Hbox

;




import

 

org

.

zkoss

.

zul

.

Label

;




import

 

org

.

zkoss

.

zul

.

Listbox

;




import

 

org

.

zkoss

.

zul

.

Textbox

;




import

 

org

.

zkoss

.

zul

.

Vbox

;




import

 

org

.

zkoss

.

zul

.

Window

;





public

 

class

 

BoxController

 

extends

 

GenericForwardComposer

 

{



	

private

 

static

 

final

 

long

 

serialVersionUID

 

=

 

-

3639146891743901462

L

;



	

private

 

Listbox

 

alignValue

;


	

private

 

Listbox

 

packValue

;


	

private

 

Listbox

 

vflexValue

;


	

private

 

Listbox

 

hflexValue

;



	

private

 

Vbox

 

vbox

;


	

private

 

Hbox

 

hbox

;



	

public

 

void

 

onAssignLayout

()

 

{


		

assignValue

(

hbox

);


		

assignValue

(

vbox

);


	

}



	

@

SuppressWarnings

(

"unchecked"

)


	

public

 

void

 

assignValue

(

Box

 

box

)

 

{


		

box

.

setAlign

(

String

.

valueOf

(

alignValue

.

getSelectedItem

().

getValue

()));


		

box

.

setPack

(

String

.

valueOf

(

packValue

.

getSelectedItem

().

getValue

()));


		

String

 

hflexString

 

=

 

String

.

valueOf

(

hflexValue

.

getSelectedItem

().

getValue

());


		

String

 

vflexString

 

=

 

String

.

valueOf

(

vflexValue

.

getSelectedItem

().

getValue

());


		

List

<

HtmlBasedComponent

>

 

children

 

=

 

box

.

getChildren

();


		

for

 

(

HtmlBasedComponent

 

child

 

:

 

children

)

 

{


			

child

.

setHflex

(

hflexString

);


			

child

.

setVflex

(

vflexString

);


		

}


	

}



	

private

 

void

 

addButtonChild

(

Box

 

box

)

 

{


		

int

 

nextCount

 

=

 

box

.

getChildren

().

size

();


		

Button

 

child

 

=

 

new

 

Button

(

"Button"

 

+

 

nextCount

);


		

box

.

appendChild

(

child

);


		

box

.

invalidate

();


	

}


	
	

private

 

void

 

addBoxChild

(

Box

 

box

)

 

{


		

int

 

nextCount

 

=

 

box

.

getChildren

().

size

();


		

Box

 

child

 

=

 

new

 

Box

();


		

child

.

setStyle

(

"border: 1px solid blue"

);


		

child

.

appendChild

(

new

 

Label

(

"Box-"

 

+

 

nextCount

));


		

box

.

appendChild

(

child

);


		

box

.

invalidate

();


	

}


	
	

private

 

void

 

addLabelChild

(

Box

 

box

)

 

{


		

int

 

nextCount

 

=

 

box

.

getChildren

().

size

();


		

Label

 

child

 

=

 

new

 

Label

(

"Label-"

 

+

 

nextCount

);


		

child

.

setStyle

(

"border: 1px solid blue"

);


		

box

.

appendChild

(

child

);


		

box

.

invalidate

();


	

}


	
	

private

 

void

 

addTextboxChild

(

Box

 

box

)

 

{


		

int

 

nextCount

 

=

 

box

.

getChildren

().

size

();


		

Textbox

 

child

 

=

 

new

 

Textbox

(

"Textbox-"

 

+

 

nextCount

);


		

box

.

appendChild

(

child

);


		

box

.

invalidate

();


	

}


	
	

private

 

void

 

addWindowChild

(

Box

 

box

)

 

{


		

int

 

nextCount

 

=

 

box

.

getChildren

().

size

();


		

Window

 

child

 

=

 

new

 

Window

();


		

child

.

setBorder

(

"normal"

);


		

child

.

appendChild

(

new

 

Label

(

"Window-"

 

+

 

nextCount

));


		

box

.

appendChild

(

child

);


		

box

.

invalidate

();


	

}


	
	

public

 

void

 

onClearChildren

()

 

{


		

hbox

.

getChildren

().

clear

();


		

vbox

.

getChildren

().

clear

();


	

}


	
	

public

 

void

 

onAddButtonChild

()

 

{


		

addButtonChild

(

hbox

);


		

addButtonChild

(

vbox

);


	

}



	

public

 

void

 

onAddBoxChild

()

 

{


		

addBoxChild

(

hbox

);


		

addBoxChild

(

vbox

);


	

}



	

public

 

void

 

onAddWindowChild

()

 

{


		

addWindowChild

(

hbox

);


		

addWindowChild

(

vbox

);


	

}



	

public

 

void

 

onAddLabelChild

()

 

{


		

addLabelChild

(

hbox

);


		

addLabelChild

(

vbox

);


	

}


	
	

public

 

void

 

onAddTextboxChild

()

 

{


		

addTextboxChild

(

hbox

);


		

addTextboxChild

(

vbox

);


	

}


	
	

@

SuppressWarnings

(

"unchecked"

)


	

private

 

void

 

set100PercentWidth

(

Box

 

box

)

 

{


		

List

<

HtmlBasedComponent

>

 

children

 

=

 

box

.

getChildren

();


		

for

 

(

HtmlBasedComponent

 

child

 

:

 

children

)

 

{


			

child

.

setWidth

(

"100%"

);


		

}


	

}


	
	

@

SuppressWarnings

(

"unchecked"

)


	

private

 

void

 

set100PercentHeight

(

Box

 

box

)

 

{


		

List

<

HtmlBasedComponent

>

 

children

 

=

 

box

.

getChildren

();


		

for

 

(

HtmlBasedComponent

 

child

 

:

 

children

)

 

{


			

child

.

setHeight

(

"100%"

);


		

}


	

}


	
	

@

SuppressWarnings

(

"unchecked"

)


	

private

 

void

 

resetWidthAndHeight

(

Box

 

box

)

 

{


		

List

<

HtmlBasedComponent

>

 

children

 

=

 

box

.

getChildren

();


		

for

 

(

HtmlBasedComponent

 

child

 

:

 

children

)

 

{


			

child

.

setHeight

(

""

);


			

child

.

setWidth

(

""

);


		

}


	

}


	
	

public

 

void

 

onResetWidthAndHeight

()

 

{


		

resetWidthAndHeight

(

hbox

);


		

resetWidthAndHeight

(

vbox

);


	

}


	
	

public

 

void

 

onFullPercentWidth

()

 

{


		

set100PercentWidth

(

hbox

);


		

set100PercentWidth

(

vbox

);


	

}


	
	

public

 

void

 

onFullPercentHeight

()

 

{


		

set100PercentHeight

(

hbox

);


		

set100PercentHeight

(

vbox

);


	

}


	
	

public

 

void

 

onHboxRefresh

()

 

{


		

hbox

.

invalidate

();


	

}



	

public

 

void

 

onVboxRefresh

()

 

{


		

vbox

.

invalidate

();


	

}




}



Comments