New Features of ZK Studio 0.9.2
From Documentation
Author
Charles Pao, Engineer, Potix Corporation
Version
Installation
Introduction
In this article, I'll demonstrate those features in ZK Studio to facilitate developing Ajax application.
WYSIWYG Editor
The ZUL Visual Editor can let you preview the result of the currently edited zul file in Intelligent Editor. You can open the Visual Editor by clicking Window > Show View > Others > ZK > ZUL Visual Editor in Eclipse menu.
The ZUL Visual Editor will display your changes in zul file instantly, and when you select certain component in Intelligent Editor, that component shown inside the ZUL Visual Editor will be marked with blue dash-line rectangle frame, and if you click certain component inside the ZUL Visual Editor, the corresponding code segment in Intelligent Editor and the component in Hierarchy View of ZUL Page will also be highlighted, if that component has an id attribute, there is a blue tag shown in the visualized content area for indication.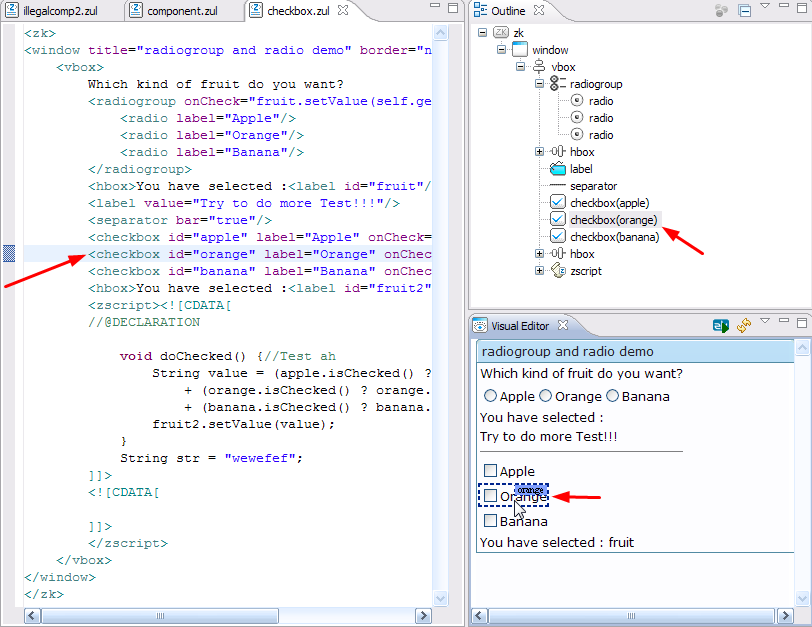 Library Quick Switch  New!
The ZUL Visual Editor can not only preview the result via the current project that the zul file reside in, but also the ZK packages that configured in ZK Package setting in Preference, you can easily change the applied package of ZUL Visual Editor by a drop-down menu that invoked by the triangular button on its toolbar.

Preview in Pure Java Project
You can preview the ZUL file result even if the project is only a pure Java Project. With the ZKs Package management, it is very convenient to manage ZK packages in Eclipse Global setting and the ZK Library using in your project via project Preference. Loading / unload ZK Library can be done without user manually removes JAR files in his project.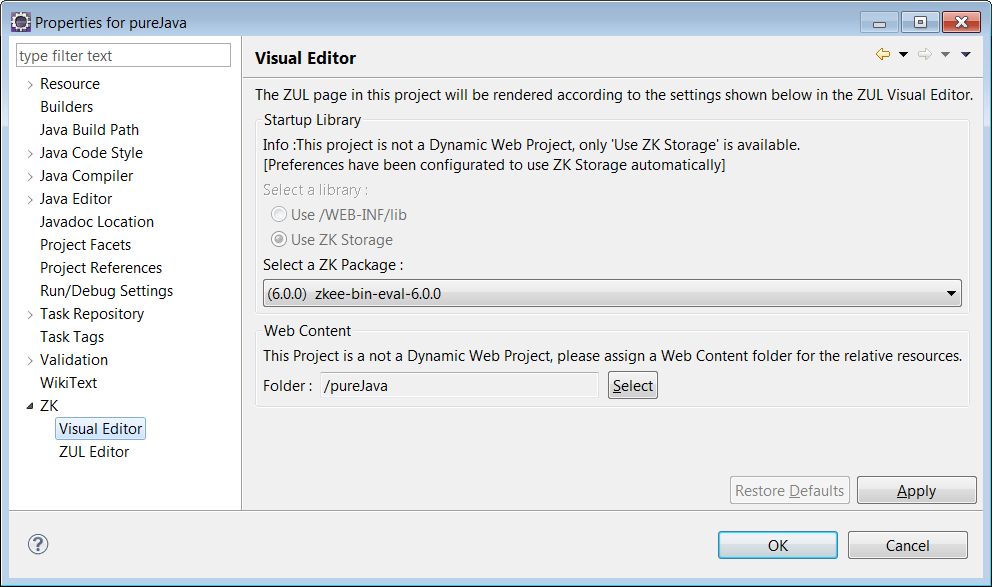 ZK Style Designer  New!
The ZK Style Designer (*Note: for ZK v3.5.2 and above only.) provides a friendly GUI interface to edit CSS styles for various ZUML components, used with ZUL Visual Editor, you can see customized result immediately.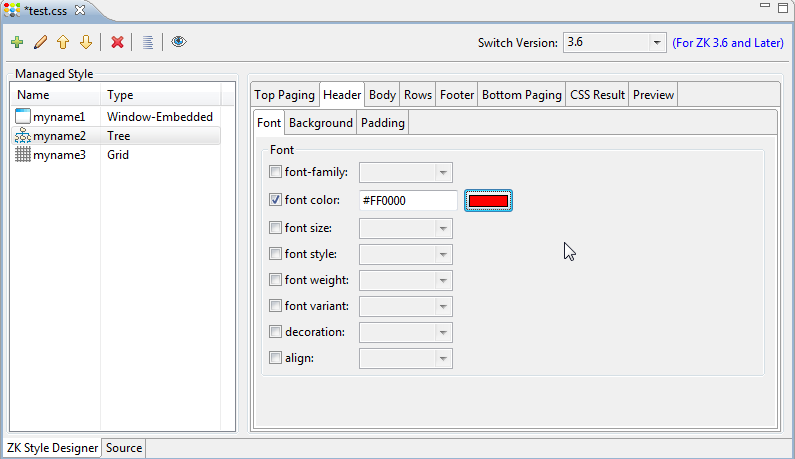 Currently supported components are:
<image />
<label />
<hbox />
<vbox />
<panel />
<listbox /> default mold
<tabbox /> horizontal orient
Other components are continuously developing.
You can customize a component with Style Designer:
Ajax Widget Palette
Instead of directly typing code in Intelligent Editor, ZK Studio provides a drag-and-drop development to edit zul file.
ZUL Palette
ZUL Palette is a custom view of studio, you can open it by clicking Window > Show View > Others > ZK > ZUL Palette.
ZUL Palette shows the full components/directives of ZK as an item in palette, those items are categorized in different groups.
You can select an item and drag it to ZUL Editor or Outline. When you drag an item to ZUL Editor, it will insert a template text to the position where you dragged. When you drag an item to Outline View on a special tree node, it will insert a template XML node to the position where you dragged.
Filtering
The ZUL Palette now supports filtering, which means you can type component's name and find it quickly. And with the aid of Visual Editor, it can boost the coding speed greatly.
Intelligent Editor
The Intelligent Editor is the file editor of ZUL pages for developing ajax application, it supports editing *.zul & *.zhtml files.
Content Assistance (a.k.a: Code Assist)
As the Content Assistance functionality in Java Editor and JSP Editor in Eclipse, Now just press the Content Assistance shortcut key (default in English version of Eclipse is ctrl + space), and the Intelligent Editor will pop up for you the proper suggestions in a list.
Content Assistance in ZUML & XML tag
The Intelligent Editor supports auto-complete.
Works not only for ZUML tag, but also for Java codes in <zscript> and event code blocks!
Content Assistance in EL Expression
The EL Expression in zul file is also supported.
Content Assistance with Helper JAVA Doc
In addition to showing the proposals in Content Assistance, the supplementary Java Doc can be shown aside.
JAVA Doc Hovering
Just as the Java Editor in Eclipse, the Intelligent Editor will also pop up Java Doc when a user hovers the mouse pointer on the code.
Syntax Check
Codes in <zscript> element and <attribute> element, enclosed in <![CDATA[ and ]]> with default JAVA scripting language, are verified against Java syntax automatically. The indicators on the right side vertical ruler and the left side markers will show the appropriate message to guide you correct the code.