New Features of ZK Spreadsheet 1.0.0 RC2
From Documentation
Author
kindalu, Engineer, Potix Corporation
Version
ZK 3.6.1 & ZK Spreadsheet 1.0 RC2
Introduction
ZK Spreadsheet 1.0 RC2 is an online-spreadsheet Component.
It implements both User Interface at Client Side and Excel-like logic (225+ build in functions) at Server Side.
With RC2, we introduce an online spreadsheet application for demonstrating the power of this component with ZK Framework.
In addition to over 19 bug fixes, there are 11 new features.
A Spreadsheet Application
Menu of Functions
It provides a list of category of function like File, Edit, Insert...
Fast Icon Toolbar
Fast Icon Toolbar let user can quickly access the most common functions.
And also show the format of current selected area.
Formula Bar
Formula Bar give user a larger space for entering longer formula or text
Muti-Sheets Supported Tabs
Just one click to change current sheet and all related sheet operations.
Quick Style Menu & Color Picker
Right click on the Selected Area, then the quick menu will pop up like row header/col header etc.
Quick Keyboard Shortcut
When the focus on the spreadsheet, user can use keyboard shortcuts
Chart
You can click one button then add a chart.
Version Control
After saving file, the previous version will not disappear, you can roll back at anytime.(By File->Version history)
Rich User Interface
Styles
ZK Spreadsheet supports many styles such as font, font color, fill color ...etc. following table shows the styles that ZK Spreadsheet has supported.
| Style Supported | Notes |
| --- | --- |
| Font / Font Color / Fill Color | Cause of browser limitation, font also depends on installed font on client side |
| Border / Border Color | Cause of browser limitation, only solid/dashed/dotted border are supported now. |
| Horizontal Alignment | Vertical Alignment has not implemented yet |
| Text Wrap & Overflow | |
| Horizontal Merged Cell | Vertical Merged Cell has not implemented yet |

Following images are the screen shoot of EXCEL and ZK Spreadsheet
EXCEL Screen Shoot

ZK Spreadsheet Screen Shoot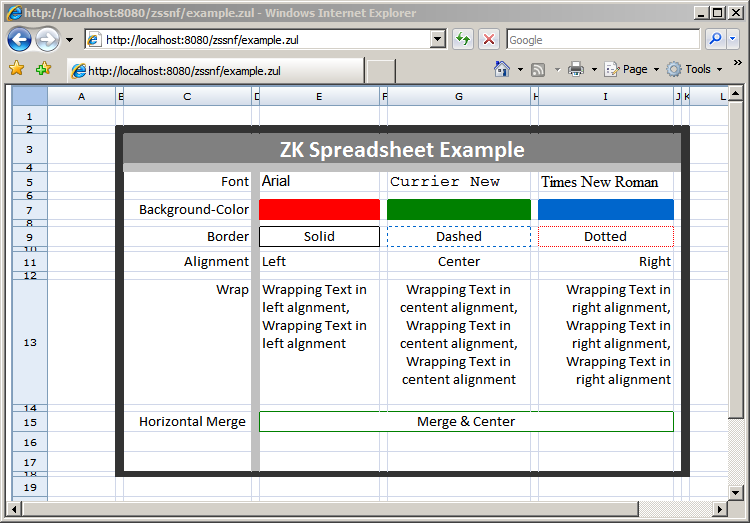 Editing
When user using ZK Spreadsheet, it is very easy and similar to using EXCEL. You could do in-place editing, use function, change the column size ...etc.